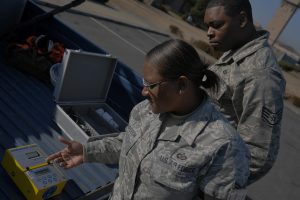 Bowmonk AFM2 has been a critical part of safety testing all over the world on all USAF runways, Tech. Sgt. Elizabeth Richardson, 51st Operations Support Squadron NCO in charge of airfield management operations, and Staff Sgt. Jerron Johnson, 51st OSS airfield management operations supervisor, use the Bowmonk machine at Osan Air Base, Republic of Korea. The Bowmonk is used to test runway slickness when snow and ice is present. The test is conducted at all ramps and every 1,000 feet of the flight line.
The USAF runway movements are completly reliant on the AFM2 device and makes judgment decisions based on complex calculations from testing.
(Picture) U.S. Air Force Airman 1st Class Brandon Doty, 86th Operations Support Squadron airfield manager, uses a Bowmonk AFM2 to conduct a runway condition reading on the flightline, Ramstein Air Base, Germany. The reading is used as a measurement of tire-to-runway friction to determine if the current airfield conditions are safe for aircraft operations.